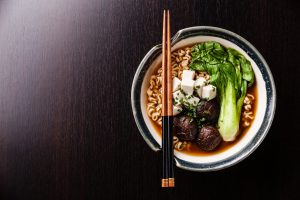 At Moto-i in Minneapolis, we love meeting new people, especially those that are visiting a Japanese restaurant for the first time. If you're looking for something new for your next date night, why not try ramen and other traditional Japanese cuisine? Our menu has something for everyone, and we know that you'll absolutely love your meal. We also offer sake that's brewed right in our restaurant!
Starting Your Meal
Your can begin your meal with appetizers and starters such as rangoons or okonomiyaki. Our rangoons are made with shishito peppers, bacon, cream cheese, and sweet chili sauce that are all combined into a wonton. The okonomiyaki is a bacon and cabbage pancake, and comes with katsu, or a sweet dipping sauce, QP mayo, and bonito. Following your appetizers, you can enjoy a green salad, edamame, or a noodle plate. We recommend our Drunken Noodles, which comes complete with rice noodles, scallions, bean sprouts, garlic, ginger, thai chili, thai basil, onion, and sesame seeds. We also have a great selection of steamed buns.
The Main Course
For your main course, a dish of our Japanese ramen is a fantastic choice. You can choose Classic Pork Ramen, Vegetable Ramen, or many others. If you're looking for something truly unique, try our Red Coconut Beef Curry, which includes beef tenderloin, scallions, poached egg, red coconut curry broth, and much more. The curry broth is rather spicy, so if you have an aversion to spicy foods, we'll gladly recommend a different dish.
Delicious Dessert
Once you're finished with your meal, and if you still have room for dessert, we'll serve you a delicious Sata Andagi, which are Okinawan doughnuts with five spice sugar. We also have banana egg rolls, complete with Sebastian Joe's ice cream, caramel, and sesame seeds. You can also pick just a scoop or two of ice cream, or have a plate of mochi, which is a sweet rice cake.
If you're in the mood for Japanese cuisine, make a reservation at Moto-i today. We take groups of up to 20 people, and can host private events like birthday and anniversaries in our lounge area!
---
moto-i Ramen & Sake House
2940 Lyndale Ave S
Minneapolis, MN 55408
P: 612-821-6262
Accepted Payment Methods
American Express

Cash

Discover

MasterCard

Visa
Business Hours
MON-FRI

12:00pm – 9:00pm